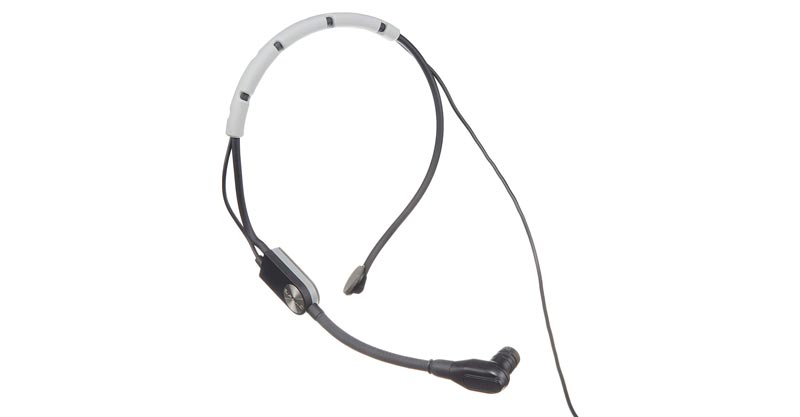 Singers sometimes need more freedom on stage.
It could be for a variety of reasons, whether it's because they're playing an instrument, dancing, running out into the crowd or otherwise.
Headset microphones can give you more mobility during your performance.
This allows you to develop a more robust stage presence, which can help you create a stronger connection with your audience.
In this guide, we will be looking at the best headset microphones for singing onstage.
Countryman E60W5T2SL Springy E6 Omnidirectional Earset
The Countryman E6 is a go-to for professional speakers, presenters, musicians and more.
This is an unobtrusive (nearly invisible) mic offering high-quality voice pickup while eliminating surrounding noise and feedback.
It works with Shure, Carvin, JTS, Trantec transmitter models with TA4F.
The earset includes a 2mm Duramax aramid-reinforced cable and standard gain sensitivity.
The thin boom keeps the mic close to your mouth (offering excellent isolation) and the omnidirectional element is mostly immune to wind and breath pops.
The Countryman is also comfortable while being sweat and water resistant.
Highlights: Great sound quality, comfortable, lightweight and surprisingly durable.
Negatives: You must pay for quality, and for such an innocuous looking and small piece of kit, it sure does cost a lot.
Some customers have had issues with durability as well.
We suggest handling all your gear with care so as to avoid unwanted damage.
Shure PGA31 Performance Headset Condenser Microphone
Shure is an iconic brand in the music industry, especially in the microphone space.
The legendary SM57 is often used to mic up snares and guitar amps, while the SM58 is the go-to for the live performance.
And, in terms of price range, these are just entry-level microphones.
The Shure PGA31 offers the same attention to detail that Shure is known for.
This wireframe headset fits securely on your head while you're busy dancing or moving across the stage.
The permanently charged electret condenser cartridge offers detailed, crisp tones and the unidirectional cardioid polar pattern rejects unwanted noise.
Featuring a higher gain-before-feedback design, this headset also comes with a flexible gooseneck for added positioning and isolation functionality and TA4F (TQG) connector for integration with Shure wireless body packs.
Highlights: Designed for comfort, durability and clear sound – all at an incredibly low price point.
Negatives: If you subject it to heavy use, it may break.
Some people didn't find it entirely comfortable.
Shure SM35-TQG Wireless Performance Headset Condenser Microphone With Snap-Fit Windscreen And TA4F (TQG) Connector
The Shure SM35-TQG wireframe headset offers a secure and comfortable fit for active performers thanks to its lightweight and low-profile design.
The tight, unidirectional cardioid polar pattern reduces signal bleed and feedback so it can be used behind floor monitors and even on loud stages.
The flexible gooseneck design allows you to position the mic for source isolation.
Use with a Shure wireless body pack system or RPM626 in-line amplified as this model is only compatible with Shure body packs with a TA4F connector.
Highlights: Solid construction and good sound quality.
Noise reduction is also on point.
Negatives: Did not fit right for some wearers.
Shure WH20XLR Dynamic Headset Microphone (Wired)
Here's yet another Shure option for those who might be looking for something slightly different than the models we've already looked at.
The Shure WH20XLR dynamic headset microphone includes a three-pin male XLR connector with detachable belt clip, lightweight wireframe and elastic headband, extra-strong small diameter microphone cable, collapsible microphone boom and a natural frequency response on par with handheld vocal mics.
The unidirectional cardioid pickup pattern offers more gain-before-feedback and isolation from ambient noise and bleed.
The frequency response includes a voice-frequency presence peak and low-frequency roll-off.
Highlights: Anti-feedback works like magic.
Durable, affordable and good sound.
Negatives: Some users didn't like the tone (and suggested playing with the EQ to achieve the desired sound) and others found it somewhat awkward and uncomfortable to wear.
The wired design could also be a turn off for some.
Shure BLX14/SM31 Headworn Wireless System
The all-in-one Shure BLX14/SM31 wireless system comes with a BLX4 wireless receiver, BLX1 body pack transmitter, SM31 headset microphone, power supply, clothing clip and windscreen.
It also features adjustable gain control, easy frequency matching, 300 feet operation range, 24 MHz tuning bandwidth and up to 12 compatible systems per frequency band (region dependent).
Ideal for small venues, this mic will give you up to 14 hours of continuous use from two AA batteries.
Though advertised as a fitness microphone, this unit works for teachers, dancers, street performers and singers alike.
Highlights: Good sound quality and range.
Comfortable.
Negatives: Apparently not fully water resistant.
Sennheiser EW D1-ME3 Headworn Wireless Microphone
Sennheiser is another microphone brand with a strong reputation.
Their E835 handheld vocal mic is their answer to the Shure SM58 and is quite possibly one of their most known mics.
The Sennheiser EW D1-ME3 headworn wireless mic automatically configures itself for great sound.
It scans and selects the best frequency for operation, and if it detects interference, it will move to a new channel.
The "Wireless Link Protection" eliminates signal dropouts while delivering a clear digital sound with a wide frequency response and great dynamics.
The rugged all-metal construction makes the Sennheiser durable and it's also backed by a comprehensive two-year warranty.
Highlights: Nice sound quality, clarity and volume.
Easy to set up.
Negatives: Apparently it eats through batteries.
Some users have had issues with the signal dropping as well.
AKG C520 Professional Head-Worn Condenser Microphone With Standard XLR Connector
AKG makes an array of great mics.
One of the best known is likely the AKG C414 condenser mic, which is considered one of the best in its category.
The AKG C520 head-worn condenser mic is lightweight.
It comes with an adjustable headband, left and right flexible boom mounting, condenser capsule or flexible shock mount for rejection of unwanted noise and moisture shield.
The AKG works great for lead and backing vocals.
Highlights: Good sound quality and apparently comfortable.
Negatives: Some buyers did not like the uncomfortable headset design.
Audio-Technica PRO 8HEx Hypercardioid Dynamic Headworn Microphone, XLR Connector
Yet another popular microphone brand, Audio-Technica might be best known for their budget large diaphragm condenser, AT2020, which is a steal of a deal.
The Audio-Technica PRO 8Hex headworn mic offers highly intelligible individual voice reproduction.
The mic woks great for guitarists, keyboard players, drummers and of course, singers.
The low-visibility headband and cushioned support pads offer comfort and the Hi-ENERGY neodymium element offers articulate vocal reproduction.
The pivot-mounted flexible mic boom descends from left or right and the hypercardioid polar pattern improves isolation.
There is a 7.2' cable attached between the microphone and XLRM-type connector on the Audio-Technica.
Highlights: A great deal for a great mic.
Sound quality, noise-cancelling features and comfort are legit.
Negatives: Some users weren't crazy about the sound quality compared to other similar mics.
JK MIC-J 071S Professional Headset/Headworn Microphone
It's time to explore some of the more affordable options on the market.
The JK MIC-J 071S is an omnidirectional mic compatible with Sennheiser wireless systems.
It also features a lightweight, sweat and dust-proof design, professional vocal pickup with pristine audio quality and a 1/8-inch locking screw plug compatible with Sennheiser Evolution Series.
The multipurpose JK mic is designed for use with broadcasters, TV presenters, actors, lecturers, performers, musicians and of course singers.
Highlights: Affordable, comfortable and good sound quality.
Negatives: Questionable quality control.
Bietrun UHF Wireless Headset Mic System
The Bietrun UHF wireless headset mic system offers a transmission range of up to 160 ft.
It comes with a high-sensitivity condenser microphone with anti-howling and anti-interference technology to reduce unwanted noise.
It also features a transmitter and receiver, and up to six hours working time.
Highlights: Affordable, good range, comfortable and clear sound.
Negatives: Questionable construction and apparently does not stay in place when subjected to heavy movement.
Pyle-Pro Double Over Ear Professional Hands Free Omnidirectional Wired Audio Boom Condenser Microphone Headset
The Pyle double over ear condenser microphone headset offers crisp and clear vocals, 3.5mm connector and 1/4" adapter, flexible design and minimal visibility.
The Pyle mic is an electret condenser requiring phantom power.
Highlights: Incredibly low priced and nice sounding.
Negatives: Phantom power is required for use, which some might consider a downside.
Not comfortable for every wearer.
So, What Exactly Do I Need To Pay Attention To When Buying A Headset Microphone For Singing Onstage?
We know you have a lot of questions and we've been keeping track.
So, you should see your question answered in the sections that follow.
We know that buying a headset microphone isn't the most complicated purchase you'll ever make, but also not the simplest.
So, we've broken everything down into a few key factors you should evaluate when shopping for your ideal mic.
Here's what to examine when buying a headset microphone for singing onstage:
Sound Quality
It gets somewhat technical, but sound quality is going to be determined by several factors, including but not limited to:
Frequency response. A flat response is usually undesirable for vocal mics, which is why professional level headset mics have a specific frequency response. Paying attention to which frequencies are emphasized and which are rolled off can give you a better understanding of how the mic works and ultimately sounds. It can offer some clues as to how to EQ it too.
Dynamic range. Does the mic pick up quieter sounds/whispers as well as louder sounds/belting? Can it handle a wide dynamic range? Do you need a wider or tighter range?
Design – dynamic or condenser. Dynamic and condenser mics represent most mics out there, where dynamics are usually more directional and reduce noise while condensers offer a more detailed sound while picking up extraneous noise.
Clarity. How clear is the sound, overall? This is determined by some of the factors already mentioned.
Tone. When people talk about "tone", they are usually referring to how a mic sounds overall and the factors already mentioned all play a part.
And so on. How a mic sounds can also be affected by speakers, EQ, compression and other outboard effects as well as the person using the mic.
Sound quality is generally the most important factor for singers when buying a mic, though it all depends on how you intend to use it and what you're looking for.
In many regards, it's subjective and what sounds great to one person doesn't always sound good to another.
Check out online demos and reviews to get a sense of what you like and don't like.
Anti-Feedback
Feedback can be an issue with different sound system configurations and venues.
If you know how to deal with this, or if you're working with a professional sound engineer, you should encounter fewer problems, or at least be able to eliminate feedback.
Some mics, however, don't offer enough noise reduction and can be somewhat problematic.
Check the reviews to see if you can find any issues with the mic(s) you're thinking about buying.
Comfort
Comfort is highly individual and there's only so much we can do to point you in the right direction in this regard.
First, we always recommend checking the manufacturer manual or instructions.
With some mics, it may look as though there is no way to adjust it, but the manual may include tips.
Second, it's important to be mindful of your head size, whether you'll be wearing a hat or glasses while performing, and so on.
These are all factors that can affect comfort level.
Finally, if possible, go down to a music store to test out a few headsets to see which feel most comfortable to you.
Wired Or Wireless
As you've already seen, most headset mics are wireless while some are wired.
This is not a good or bad situation.
Sometimes wired can offer the sound quality you need.
Sometimes wireless can give you more freedom to move around.
If you're working with a professional sound tech, you shouldn't even notice much of a difference while performing onstage.
But in case you were wondering, we thought it was worth explaining.
Range
Headset mics all have a limited range.
Some are great for bigger venues.
Some are only suited for smaller venues.
Keep in mind where you'll be performing and how much you'll be moving around.
Compatibility
Does the headset mic work with the rest of your gear (i.e. receiver/transmitter)?
This is always important to check if you're planning to use your mic with gear you already have.
Life
If the unit runs on batteries, how long will it last?
We find that most mics last long enough for the average performance.
And, if you're working with professional sound engineers or techs, they should be trained in the handling of wireless mics and replace the batteries frequently.
Still, if you're worried about your mic lasting long enough for you to finish your performance, this is a factor worth considering.
Price Point
Some units cost more than others.
Headset mics aren't that expensive overall but there is a bit of a spread in price range.
If money isn't an object, then you're free to use whatever you please.
Otherwise we advise not spending more than your budget can handle right now.
Either save up for a better mic or buy one that won't break the bank.
Final Thoughts On Buying Headset Microphones For Singing Onstage
You should now be equipped with everything you need to know to buy a headset mic.
Although choosing the right one isn't always easy, it shouldn't be a costly transaction overall.
Have fun with your newfound freedom onstage.